Greetings, Tribal Warriors!
With version 1.38 we have implemented a new effect: Domination!
You can find this new buff in the shop or directly in any of your Barracks. For 199 Crowns, you can now speed up your recruitment times by 10% in all your villages for 7 days (or extend the duration with further purchases of this effect).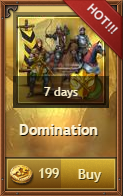 This effect will only trigger for recruitment orders that are not already running on the effect's activation. Every new recruitment order, and all recruitment orders in your queue that haven't been started yet, will benefit from this speed boost as long as it's active!
Sincerely,
Your Tribal Wars 2 Team