Mobile Version 1.21
Hello Tribal Warriors!
On Monday, August 31st the new Android app version 1.23 will become available. This version contains the new Tribe Profile screen and bug fixes.
Android (Release Date: August 31st)
NEW TRIBE PROFILE
We have overhauled the Tribe Profile screen massively to provide a better overview. It has been optimized and now also displays functions of our soon-to-come feature.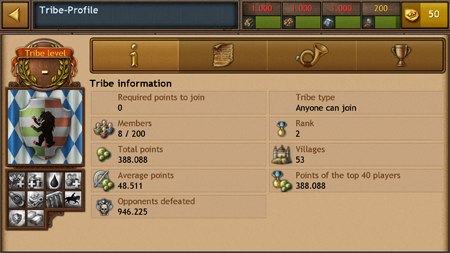 Bug Fixes:
The top menu bar will no longer disappear.
Noblemen can now be properly recruited again if you have all required resources available.
When leaving a Tribe, the Tribe screen will now close.
The indicator of unread threads is now working properly again.
Some animations have been fixed.
Thank you very much for your support and bug reports. Give us your feedback in this
discussion thread
.
Sincerely,
The Tribal Wars 2 Team