Version 1.36
Greetings, Tribal Warriors!
On Monday, December 7th we will update all realms with version 1.36. This version will split the Shop and Inventory, add a new Shop item and include a neat community suggestion. We have also improved the usability of the game and fixed a couple of bugs in this update.
Community Suggestion
We have implemented a very useful community suggestion. Units that can't be recruited in your village are now greyed out in the unit bar.

New Feature
We have added a item to the Shop: Prosperity. This item will trigger an effect for your village which boosts the resource production of all types instead of the single resource type boosts!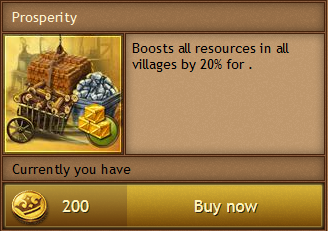 Improvements
The Shop and Inventory have been sparated into two different windows. This allows a cleaner overview.





All input fields have been improved, so the default value 0 is automatically replaced with the value entered by you.

Bug Fixes
When you have a reroll item, the reroll button will now be correctly colored green to indicate this.

Sabotage missions now take Iron Wall into consideration when succeeding.

Sorting by 'Troop type' is now working as intended again.

In some cases you could send out more resources than you had available. This has been resolved.

Honor Points from the previous week are now shown again.

Some translations have been fixed.

Thank you very much for your support and bug reports. Give us your feedback in this
discussion thread
.
Sincerely,
The Tribal Wars 2 Team