Version 1.37
Greetings, Tribal Warriors!
On Monday, December 14th all realms will be updated with version 1.37. This update features two more items, a few usability improvements and bug fixes.
New Features
There is a chance that the last milestone in your Resource Deposit will now provide a new item: Bountiful Harvest. This item permanently increases your Provisions in one village by 10%. This permanent effect is only active as long as you own this village. Once a village with this buff is conquered, the effect is lost and will have to be re-applied.
We have added a new item to the Shop: Vault. This item will temporarily increase the storage capacity of the Warehouse in all your villages!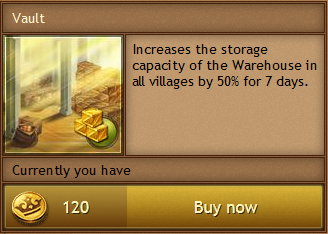 Improvements
A new indicator attached to the Tribe icon will let you know if you have pending Tribe invitations. This is designed for new players to let them know that being in a Tribe is crucial in this game. A smart tip is also planned to make this more prominent.

The green arrow pointing to your Inventory when you have a new item in there, will now disappear after a few seconds.
Bug Fixes
Your saved preset hotkeys will no longer vanish.

Errands in your Resource Deposit are now properly reset every 8 hours.

Switching through your reports will now properly display the correct values again.

When supporting a Barbarian village with a Tactician, the travel time will now be correctly reduced.

Village coordinates are now displayed in the unit overview again.

You can now delete favored reports again.

When accessing a battle report from the Village Info it will now also affect the unread report indicator accordingly.

The animation to collect a reward in your Resource Deposit is no longer active when an errand is not finished.

The Inventory icon will no longer bounce indefinitely.

Some translations have been fixed.
Thank you very much for your support and bug reports. Give us your feedback in this discussion thread
HERE
.
Sincerely,
The Tribal Wars 2 Team
Last edited: