[tw2head=26]Update[/tw2head]



Version 1.16



Hello Tribal Warriors!

On Monday, May 18 we will update all realms with version 1.16. This version will include the new Homeguard technology for your Tavern level 15. It is designed to provide better protection against incoming sabotage attacks. You can now also save up to 10 favorite villages in your search screen. The Android version will be released on May 25.
New Feature
You can now upgrade your Tavern to level 15. With this new level you will also unlock a new technology: Homeguard!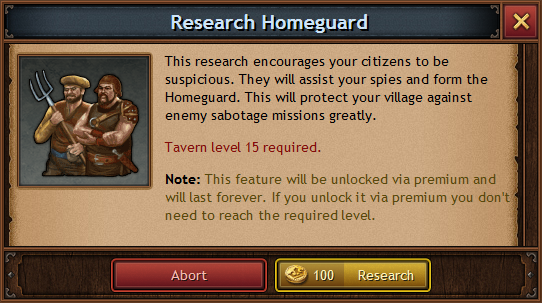 This technology will increase your defense against incoming sabotage missions greatly!
You can now also save up to 10 favorite villages in your map search. This will provide easy access to your most important targets.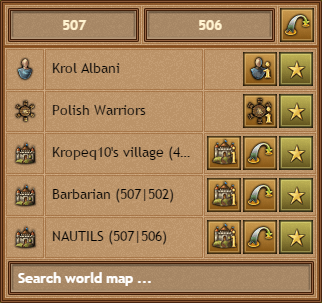 Improvement
The invitation screen has been improved visually.
Bug Fixes
The 'Attack again' button is now available again.

The defense modifier for Walls has been corrected.

The scrollbar will no longer disappear when viewing a long message.

The icons in your preset screen will now be aligned properly.

The timeline will no longer be rendered every 5 seconds if there is no update to be made.

Your spies are now ordered correctly again.

It is possible to attach battle reports again.

The scrollbar is available in battle reports again.

When trying to log in with wrong credentials, you will now receive a proper error message.

Fixed an issue where it was not possible to write text under a quote.

Timeout messages are now localized.

The Tribe abbreviation is no longer missing in Tribe applications.

The password reset function is now working as intended.

Some translations have been corrected.
Android (Release Date: May 25)
HOMEGUARD
Are you tired of getting your village sabotaged by your enemies? Mobilize your citizens and found the Homeguard in your Tavern level 15! They will help you protect your village against sabotage attacks greatly.
VISIBILITY OF FREE ITEMS
You have a free item to use one of the premium features but don't know about it? With this update we have improved this, so you can easily see if you can use a premium feature for free. The premium button will be green instead of gold.
Bug Fixes:
All reports are visible again.

Paladin attack modifiers are now correctly displayed in the attack screen.

Attack protection is now visible in the global information.

The recruitment queue now properly links to your Barracks instead of your Headquarters.

The button 'Send resources' is only shown in the ring menu when applicable.

You can now recruit a spy when your Tavern is constructed.

Some translations have been fixed.


Thank you very much for your support and bug reports.
Please utilize this thread to discuss this update!

Sincerely,
The Tribal Wars 2 Team


Last edited by a moderator: