Version 1.18
Hello Tribal Warriors!
On Wednesday, June 17 we will update all realms with version 1.18. This version introduces the village list in browser allowing you to easily access your desired village with two simple clicks!
New Features
Village List
You have been waiting for this feature for quite some time now. It's finally available in the browser version! Simply click on the new icon next to your village name to expand your village list. Now you can easily navigate to your desired village. You can also apply filters to manage your village list more easily if you have dozens of villages!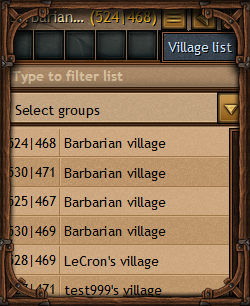 Bug Fixes
When your support is hit in a Barbarian Village, the 'Jump to village' button will now redirect you to corresponding Barbarian Village.

Opening the Resource Deposit will now play a sound again.

When using the Loot Protection the bonus will now only be displayed in the village it has been applied to.

You will now see the correct icons in the timeline when Resource Deposit and Second Village errands finish at the same time.

The completion of the Headquarters in your Second Village now fulfills the requirements of the quest asking you to have two Headquarters.

A graphical error in the chat window has been fixed.

If not all units of a Preset can be recruited due to unmatched building requirements, the correct error message is now provided.

Presets will now update properly when changed.

'Jump to village' will no longer cause the map to freeze.

The Resource Deposit will now properly unlock milestone rewards.

You are now able to view/edit a message participant list.

The Resource Deposit will now show the correct amount of Officers.

The Reroll button will not be displayed before the first Resource Deposit errand has been completed.

The hotkey overview is now fully working.

The Daily Unit Deal countdown will now reset correctly.

The popup when relocating your Paladin is now displayed correctly.

The amount of used Provisions will now be shown properly when units are in Hospital.

The popup "Not enough Provisions" will now be shown correctly.

Android (Release Date: June 22)
TRIBE FORUMS
The Tribe forums have been refactored for better usability. This was very important as it's the main source of communication within your Tribe!
NUMBER FORMAT
Did you ever get stuck in numbers of your battle reports? We have improved this and the number format is now a lot easier to read!
Bug Fixes:
The Wall animation will no linger flicker.

Recruitment costs will now be properly reduced by your Hall of Orders.

It's now possible to see your protected resource counter in the Storage again.

Inserting items in messages will now be displayed correctly.

The app will no longer crash when using Instant Build on your Headquarters.

The timeline will now be updated properly when using instant features.

The timeline will group icons correctly again.

It's now possible to re-use previously used Preset names again.

The global information about incoming attacks will now remain if you log out and log in again as long as it's still applicable.

The correct hue of red is now used for the font when not enough resources are available to recruit a Nobleman.

Your profile screen will no longer have a shadow effect when scrolling.
Thank you very much for your support and bug reports. Please let us know what you think of this update in the
discussion thread
!
Sincerely,
The Tribal Wars 2 Team