[tw2head=26] Version 1.6[/tw2head] Hello Tribal Warriors, On Wednesday, December 17, we will update all game servers with version 1.6. This version will focus on game improvements and bug fixes. The new daily login reward will grant you additional resources if you login every day!
New Features
You can now claim your daily login reward once a day. For each successive day you log into your account you will get 500 resources of each type, whereas on the fifth successive daily login you will earn 2000 of each type.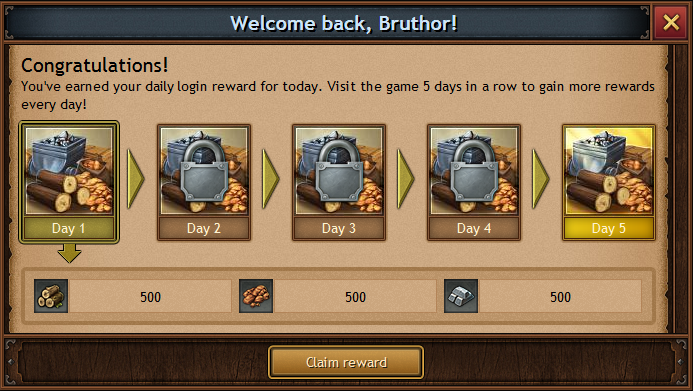 The tribe forum has been revamped. The user interface is now easier to navigate.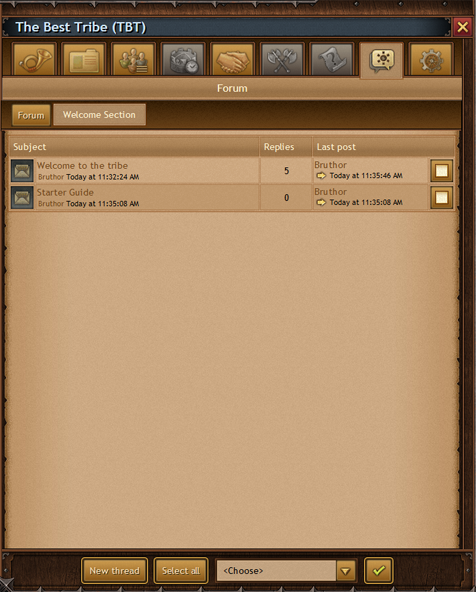 Improvements
Siege weapons (Rams, Catapults and Trebuchets) now fight together with the largest battle group to avoid them being destroyed easily.
Number formats are now localized.
The following premium items have been removed: Relocate Paladin and Instant Heal of units in the Hospital.
Renaming a Paladin now displays information about name length constraints.
Sabotage missions now require at least 3 spys.
Clicking on a global info icon (e.g. incoming attack) now opens the correct tab in corresponding screen.
Bug Fixes
Forums and threads now properly appear as read/unread when marked so.
If a player posts something in a thread, this thread will not appear as unread afterwards.
Players now always can create a new thread when a forum has been created.
Current production values are now properly updated at the top right UI element when a boost has been applied.
The tooltip for the Ranger is now entirely displayed.
The ranking is now calculated correctly again.
The UI has been fixed in the ranking screen.
The Daily Unit Deal reset counter is now displayed correctly.
When withdrawing Catapults from another village you will no longer need to choose a target building to hit.
The use of the Deceiver will no longer mess up the attack screen.
The NPC ratio in the market is now properly displayed as 1:1.
Loyalty is now correctly displayed in the general overview.
The loyalty value of newly conquered villages is now displayed correctly.
The tribe forum can now be properly administrated when corresponding rights have been granted.
Some images have been fixed in the village screen.
Units supporting a barbarian village now fight as intended.
All tribe event entries are now fully visible.
A new message indicator is no longer shown when there is no new or unread message.
A display error has been resolved where loyalty was shown as 0 although it was in fact at -1.
Sabotage missions can no longer be issued without having an active Thieves' Guild.
Wall level 20 now has an image again.
Map scrolling using Firefox now works as intended again.
Reports about attacked support units can now be linked in messages or forum posts.
If a building is being upgraded more than once in succession, the village overview will now properly display an individual icon for each successive construction job.
Some translation issues and typos have been corrected.
Building slots are given back to your inventory when losing a village or restarting.
The first re-roll of the daily unit deal is now correctly displayed as free.
Android
Direct Play users now receive a welcome email when their account has been successfully registered.
An improved error feedback for failed payments has been implemented.
iOS
New building/unit queue has been added to the iOS app.
Thank you very much for your support and bug reports. Sincerely, The Tribal Wars 2 Team