Hello Tribal Warriors,
With version 1.2.1 we are implementing some new convenient features to the game. The world search option will be activated, and new premium features will allow you to speed up your trades and hire troops for Crowns.
Thank you for your help testing the game and posting your feedback on our forums. With your help, we will continue to polish and develop the game further!
New Features
The world map search is now activated. You can now search for coordinates as well.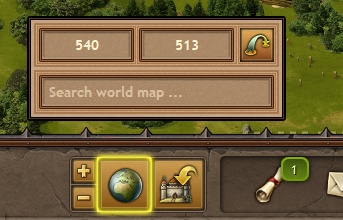 You don't want to wait on your trader to deliver resources? Make him deliver any supplies instantly by paying him in Crowns. This new feature adds flexibility to your running trades!

You will now have access to a new premium feature that allows you to recruit random units for 50 Crowns. This feature is visible as soon as you have your Barracks on level 3. Unit offers are shown in your Barracks and can be re-rolled for 10 Crowns. There is always a small chance to get an epic roll offering twice as many units than normal offers, or even a legendary roll which quadruples the normal amount! You can unlock more unit slots by leveling up your Barracks to level 10 and 15. This feature is not final and may change in the future.

If you are playing on more than one game world, you can now switch to another world without having to relog. Simply click on the logout button at the top right of your screen and select another world.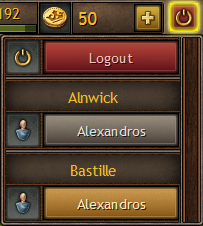 Improvements
All Officers now have an info popup explaining their uses.
Players can now resend the same attack directly from a report.
Icons have been added for all tribe events.
In case an attacker has a Medic amongst his or her troops the units revived by the Medic are now shown in the report.
Bug Fixes
The email address can now be changed by the player.
Players will now be able to recruit spies properly.
Rank, points, ranking, and profile tooltips now act as intended.
Players who have been removed from a conversation can't access this conversation anymore.
Some translations have been corrected.
The 'Load all posts' button in a conversation now works as intended.
The 'Faithful Paladin' bonus is now properly displayed.
Returning units will now correctly be displayed as commands in their origin village.
Market offers that cannot be accepted will now display the correct tooltip.
Report subjects will be displayed correctly again.
Tribe events are now displayed properly.
Mass minting now works as intended.
The 'Skip tutorial' is now properly displayed.
The market offers to be accepted can no longer be 0.
Using the 'Tribe profile' button now shows the correct screen.
All Paladin weapons now have their correct icon again.
Tutorial hints will no longer obscure UI elements or be cut off.
The unit names have been added to our landing page.
Android
We would like to thank everybody for the feedback we have received. With this we have pinpointed some issues with the design of our app and have therefore redesigned the user interface for a better experience on mobile devices.
The Android version now has the same controls as known from the browser version.
Icons have been added for Tribe events.
More sounds have been added to the app.
The collapse menu at the bottom has been corrected.
It is now possible to upgrade the Clay Pit using the radial menu.
The radial menu is now displayed as intended.
It is now possible to see troop movements on the map.
It is now possible to write messages using multiple lines.
The 'Use item' button in the shop screen now works properly.
The missing amount of units needed to finish a quest has been corrected.
The behavior of the amounts of offers in the Market have been fixed.
The 'Edit rights' screen no longer displays an error message after a change of titles.
The 'Edit rights' screen no longer allows players to change the rights of the Tribe leader.
Quest texts are now displayed properly.
'Build job complete' will now appear when a job has actually been completed.
A confirmation box will now warn players of losing progress when leaving the filter settings screen without saving first.
The display of presets names has been optimized.
The enter button now works as intended.
The minimum amount of characters in preset names has been changed to 1.
The preset button now has the correct title.
Spy reports now show all information properly.
Quests are now displayed correctly.
If resources are missing to recruit a unit, this resource type will be displayed in red font.
When a player unlocks the last building slot the button for unlocking a new building slot will no longer be displayed.
Battle reports will now use the correct icon for hauls.
The performance of the app has been improved.
The way the shop screen opens has been changed.
New buttons have been added to the top bar.
New buttons have been added to quests and queues.
Game Update 1.2.2 was rolled in with Game Update 1.2.1. This update included security hot-fixes for Tribal Wars 2.
Additionally, we adjusted the Master of Loot premium feature. The Master of Loot will no longer provide a speed boost to Light Cavalry speed, but instead will grant a 100% speed burst.The Tactician is also affected by this. So, he won't increase the speed to LCav speed but increase by 100%.
Thank you very much for your support and bug reports.
Sincerely,
The Tribal Wars 2 Team