Version 1.50
Greetings, Tribal Warriors!
On Monday, April 11th all realms will be updated with version 1.50. This version introduces the new Mass Building Screen which will help you a lot with managing multiple villages.
New Feature
MASS BUILDING SCREEN
We all know that managing big accounts can be frustrating. The first Mass Screen 'Buildings' is included in this game update. This is the first step to make managing accounts easier for all players, which is why we also offer this feature for free.
In your Building Overview you can now enable the Mass Building feature. With this you are able to build and upgrade buildings in any of your villages without switching between them. You now have all your building queues and building options in one screen!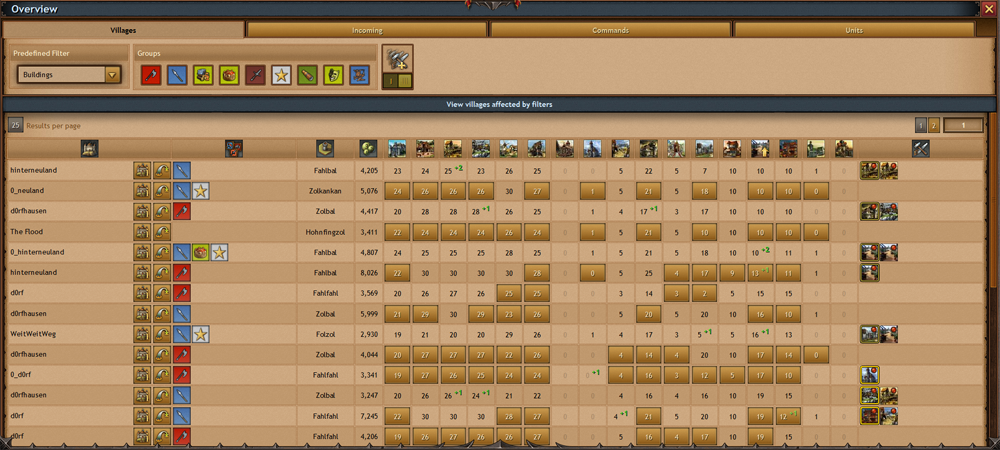 Improvements
As an attacker who has lost a battle, you will no longer see an empty box where the defending units are supposed to be when viewing respective report. Instead you will now see a message that you have no information about defending units because all your units have been defeated.

Next to the 'Up' and 'Down' indicators in the Player and Tribe Ranking Screens, we have now also implemented a 'Rank not changed' indicator, so the rankings become more responsive and clear.





Smart Tips will no longer fully disappear when clicked, so players can open and re-read them if needed.
Bug Fixes
You can no longer purchase Technologies which have been unlocked already.

A rare case in which affected players experienced the game loading bar to freeze at 68% has been resolved.

Another rare case in which villages owned by a player's Tribe mates, allies, or enemies showed the color orange rather than their corresponding colors has been resolved.

Support Reports can now always be shared properly.

Very long Tribe names will no longer break the layout of the Player Profile Screen.

The 'Show all players' button in the Message feature now contains its text properly.

The 'Paladin Instant Relocate' item now has an icon again.

In some cases, the Village List was misaligned. This has been resolved.

The achievement 'Provincial Domination' no longer shows incorrect values.
Thank you very much for your support and bug reports. Give us your feedback in this discussion thread
HERE
.
Sincerely,
The Tribal Wars 2 Team