Version 1.69
Greetings, Tribal Warriors!
All realms will be updated with version 1.69, on the 21st of November. In this version we are proud to say that it was mostly about community requests.
We significantly reduced the costs of the tribe skills in the higher levels, as of this update the total cost is two thirds cheaperin terms of crown costs
.
We also added the ability to select the paladins weapon straight from the attack screen, and also added more information to the market.
Last but not least, we revamped the inventory. It looks much better and it is much easier to use, take a look.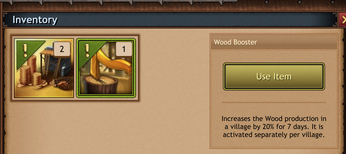 New Feature
Community Request - Added the ability to chose the paladin's weapon from the attack screen
Community Request - Added to the market information about the village and tribe from where the offer was created.
Community Request - Revamped the inventory.
Improvements
The formula for the tribe skills costs was adjusted, now the total cost is now two thirds cheaper.
When spying another village the newbie protection is deactivated. A warning will be shown to confirm the action.
The founder is now able to transfer his right to another tribe member.
Added a tip when there are unused resources in the inventory.
Added a button linking to the village in the event list in the tribe.
Removed unused tab "Quest" from the achievements.
[*] Improved reports when someone accepted an invitation to the tribe.
Bug Fixes
Tooltips didn't doesn't show correct values in relation to server time.
In some cases the founder was not able to to change the member rights.
Using the presets the time for conclusion was incorrect.
Long forum thread names caused a silent error, now the error is displayed.
Time indicators (AM/PM) were missing in the queues and tribe chat.
Using the hotkey "p", one could access the Donate Screen without having a tribe.
Sometimes the assigned attack hotkey failed to execute.
Setting filter while co-op'ing would influence own account.
Vault effect when stacked is now correctly displayed.
When relocating units, in some cases the units were double counted.
Thank you very much for your support and bug reports. Give us your feedback in this
discussion thread
.
Sincerely,
The Tribal Wars 2 Team