[tw2head=26]Update[/tw2head]
Version 1.12
Hello Tribal Warriors! On Wednesday, March 25, we will update all game servers with version 1.12. This version will introduce the new game feature
Second Village
and will also save your latest Tribe chat history.
New Feature
The new
Second Village
feature will be enabled on all realms. Every new game account that is created and every account that is restarted on a realm after the update will get a new icon on the map:

Click this icon to enter the
Second Village
screen. You will find tasks which can be executed to earn points for your second village progression and additional rewards on top! Do as many tasks as you can to finish your new village as quickly as possible. The amount of tasks is capped per day, so check back every day to work on your new settlement.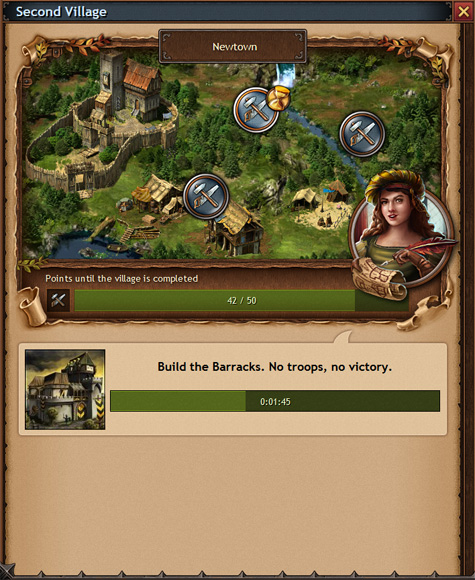 ​
Once you have filled up the
Second Village
progress bar, the village will be placed on the designated spot on the map to become a real village.
Improvement
The last 1,000 lines of chat history are now always saved.
The item 'Attack Protection' has been removed due to balancing reasons.
Bug Fixes
Resources are no longer lost when trading.
The summoning of your Paladin can only be cancelled in the village he is summoned to.
When inserting an incorrect mail while changing your email address will now correctly trigger an error message.
The item count in your inventory is now always displayed correctly.
Internet Explorer users won't experience unwanted actions during the tutorial anymore.
A greyed out "Save as preset" button is no longer clickable.
Skipping the tutorial after the unit recruitment quest will now grant full resources as intended.
Android (Release Date: March 30)
Second Village feature is also available on your Android app.
New push notifications are now available for finished recruitment orders and available rewards in your Resource Deposit.
Push notifications include more information now.
The performance of the app has been improved further.
The UI has been somewhat improved.
Spening Crowns in your Headquarters now correctly triggers a confirmation box.
Tapping the email validation button will no longer cause the app to crash.
Own player name is now centered in the global rankings.
Resource Deposits no longer overlap long village names.
Pressing the On/Off button on your phone while being on the Headquarters screen will no longer cause the main menu bar to disappear.
When jumping to a village corresponding report screen will now automatically close.
'Don't own village' error message will no longer be triggered when cancelling an attack.
Thank you very much for your support and bug reports. Sincerely, The Tribal Wars 2 Team