[tw2head=26]Update[/tw2head]
Version 1.15
Hello Tribal Warriors!
On Wednesday, May 6, we will update all realms with version 1.15. This Version contains our new 'Invite a friend' feature, which allows you to invite a friend to play close to you! This feature will only become available on new realms.
This update also contains a lot of bug fixes to improve your game experience.
New Feature
The new Invite a Friend feature allows you to send your friends invites via email. Simply click on the 'Invite a friend' icon on the map.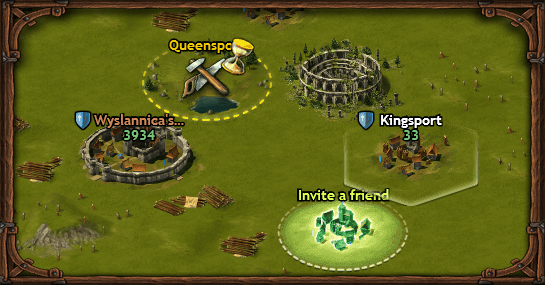 A new window will let you enter your friend's email address and your names, so he or she knows who sent them the invitation to play the game.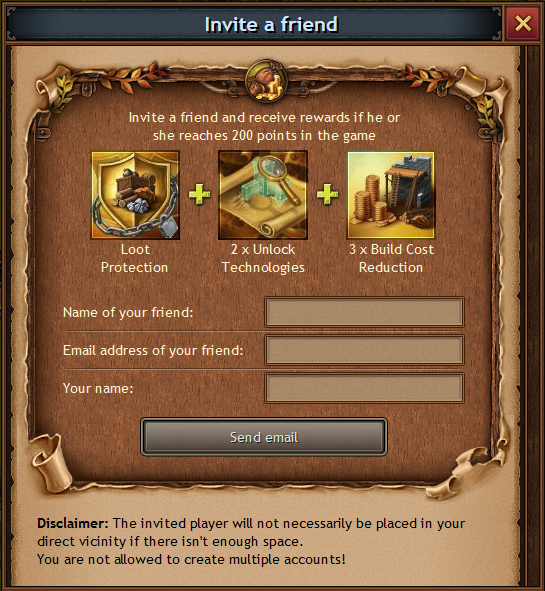 Once your friend has accepted the invitation, he or she will get a village as close to yours as possible. As soon as an invitee has reached 200 points you will also get a reward package!
Are you ready to conquer the realm together?
Known issue:
Currently the invitee is not always placed close to your village. We are working on a fix for this.
Improvements
The chat history is only visible after relogging.
Bug Fixes
A proper error message will now occur when our payment system can't be reached while attempting to spend Crowns in-game.

Spy reports will no longer be 'green' when a spy has been defeated.

In rare cases a player could get two chapels. This has been resolved.

The alignment of names in messages has been corrected for Internet Explorer 11.

When adding more recipients to a conversation, corresponding button will no longer break in Internet Explorer 11.

The page numbers in the rankings are now properly aligned when using Internet Explorer 11.

Unit information is now properly aligned in the village information window when using Internet Explorer 11.

Text hints will no longer appear too far away from corresponding icons in the attack screen when using Internet Explorer 11.

The text "Currently no foreign villages" is now hidden in Province rankings when applicable.

Line breaks will work as intended in Tribe applications.

When opening any building information and then switching the active village, the label of selected building will no longer dissappear.

The text is no longer cut off in building labels.

The "Change founder" button in the tribe will not be active when only one member is in the Tribe.

The number of units in the overview will now correctly reflect the values in the unit tab.

The Resource Deposit now always shows when an errand has been completed.

Players can now always rename outgoing attacks.

Only Officers that have actually been used in a command will be shown in the command overview.

The arrow in the Resource Deposit screen will no longer break out of its box.

The Hall of Order will now correctly update the amount of Berserkers when switching villages.

When the Tribe Leader pins news it will no longer become twice the size.

Some translations have been fixed.

The damage from Rams and Catapults is now shown in battle reports.
Android (Release Date: May 11th, 2015)
INVITE YOUR FRIENDS
Tribal Wars 2 is meant to be played with your buddies! Send your friends an invitation and dominate the realm together. Once an invited friend has reached 200 points in the game you will get a nice reward package!
VILLAGE LIST
If you have a bunch of villages you will now have a simpler way of navigating through them. Drop down your village list in the app and you will be able to visit your villages on the map or enter them directly. You will be able to search the villages by name as well as sort them by groups. How awesome is that? Really awesome!
Bugfixes:
In rare cases you were not able to see your reports. This has been resolved.

The 'Tribe near village application' will now show the correct Tribe abbreviation.

A message that was quoted will now stay in the text field for the next message.

You will now recieve a message when you send an application to a Tribe.

'Choose action' was still active when no message was marked.

Going to achievements from a report will now direct you to the correct achievement.

The building screen is no longer blank if maximum level has been reached.

The revived icon is no longer cut off in reports.

When modifying settings in the Tribe screen, the values will no longer show "Null".

In rare cases, units were returning in the wrong direction on the map. This has been resolved.

Last logins will no longer show 'Mozilla/5' when using Android.

Searching players in the ranking now works as intended.

Corrected an incorrect use of haul icon in report filters.

Resources now correctly update when a construction order is placed.

When 'Cart' is researched, the maximum delivery time is no longer capped at 5 hours.

The tutorial doesn't automatically restart anymore.

The 'Send Spy' button is no longer missing in the radial menu.

Players no longer get stuck in the tutorial when they wait for a building to finish.

When pressing the back button while logging in, you will no longer be put back on the login screen while being in the game at the same time.

It is now possible to log out when playing the tutorial.

It will no longer break the text format when using multiple quotes.

The correct amount of units is now always shown when some of them are returning home.

The icon for the email confirmation is now bigger.

In some cases the popups for Resource Deposits and Second Village would not show. This has been fixed.
iOS
It is now possible to use the 'Play now' feature in your iOS app. (Only recommended for new players)

An information popup for the use of items has been added.

The validation text for Tribe name changes is no longer cut off.

It is no longer possible to choose more units that you own when sending an attack.

Fixed an issue where the UI became unresponsive in some cases.

The ability to paste URL and image links has been removed.

The ability to attach trade and support reports to messages has been removed.

Paladins can no longer be summoned with items.

Sometimes the compare achievement screen was missing. This has been fixed.

Tapping the Berserkers will now show the proper information screen.

The Tribe button is no longer active when you are not a member of a Tribe.

Looking at external units in a barbarian village will no longer cause an error.

It is no longer possible to show the character screen of barbarian villages, because they don't have one.

The information button in your Academy now works as intended.

Inconsistent values have been corrected.

Corrected an error where attack protection would show as 'Null'.

The research button of your Wall now works as intended.

The 'Luck / Misfortune' bar is now displayed correctly.

Some translations have been fixed.
Thank you very much for your support and bug reports.
Sincerely,
Your Tribal Wars 2 Team