[tw2head=26] Version 1.8[/tw2head] Hello Tribal Warriors! On Wednesday, January 28, we will update all game servers with version 1.8. This version will improve the game further and fix quite some bugs. New hotkeys have been added to the game, and you can now benefit from frequent Resource Deposits!
New Features
Resource Deposits will help you gain more resources during your daily activities in the game. Access the Resource Deposits on your map:

You can complete offered jobs from the list below. The jobs vary in duration and quality. The quality is indicated by 1-3 stars and determine the resource reward on completion of the job. New jobs will be offered every 6 hours. You can also choose to get new jobs by investing 15 Crowns. At the top of the window you can also see 3 unlockable rewards. These rewards you can earn on top of resources by completing several jobs within that time frame. A countdown tells you when the special rewards will be reset.
​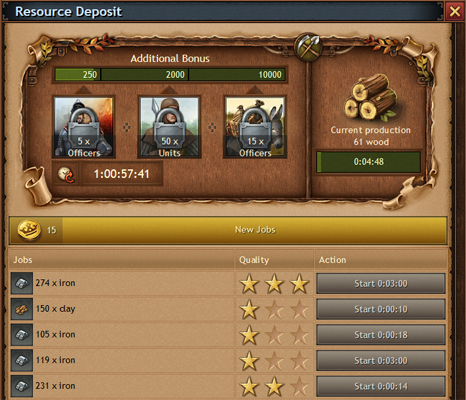 More hotkeys have been added to the game and the hotkeys to switch your village have been changed from CTRL + arrow to SHIFT + arrow.
Improvements
Player ID is removed from various UI elements if a long name would cause a line break.
Timers in the Market UI have been simplified.
The number display in battle reports has been optimized.
The start page of the game has been improved further.
The readability of tutorial texts has been improved.
You will now get an error message, if a world is full.
Players will now get a warning if there are not enough provisions available for the selected daily unit deal. The warning will also state how many units will be received if the offer is being accepted anyway.
Total amount of spies will not show spies currently in recruitment.
Bug Fixes
Hospital reports now work as intended.
Clicking on a player info icon will now open the correct player profile.
When using Firefox, the in-game links to the community forums and wiki will no longer open multiple tabs in your browser.
When switching a village while the Hall of Orders screen is still active, the recruitment queue will now update correctly.
The display of coordinates in various screens has been fixed.
The selected report display per page will remain when performing a search.
Command icons are no longer misplaced while the report screen is open.
Using TAB to switch map search fields will no longer toggle the timeline.
Travel times of troops will properly update when switching villages.
Auto-completion now works as intended when searching for tribes.
Messages now have timestamps displayed again.
The game will now show the 24h format for specific countries again.
Some translations have been corrected.
Android
Incoming attacks are now displayed globally and not only in the command view or timeline.
Players now receive a little reward for choosing a password while playing via 'Direct Play'. This registration will also trigger a welcome email with further information.
The command lines on the map are now in different colors depending on their command type.
Upgrade costs are now visible directly in the building information.
The Storage will now show an active boost for the storage protection.
The effect of the Faithful Paladin is now shown in the attack screen.
You can now jump to villages again.
Switching between different forums and threads will now correctly update the interface.
Tapping a building will now open the correct screen.
When your connection is lost, you can tap to get more information.
Some translations have been corrected.
The correct image is now shown when instantly recruiting units.
Discuss the new update here!
Thank you very much for your support and bug reports. Sincerely, The Tribal Wars 2 Team